Are you ready?
Start now as a trainee at EgeTrans.
Are you looking for the perfect start to your career? At EgeTrans you will find the best conditions for your entry into the exciting world of international logistics. With our wide range of training opportunities in the areas of forwarding, administration and IT, you can count on fair pay, advancement to permanent positions and real team spirit. From the very first day, we offer you a well-founded training in which we attach importance not only to your professional but also to your social development.

Your bet? Willingness and commitment.
Your profit: An employment you can build on.
Apply now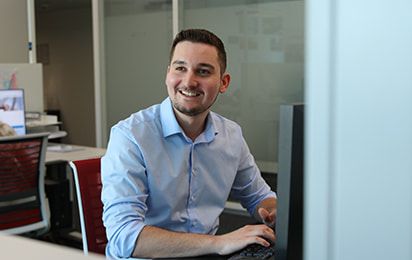 "As part of my three-year IHK (Chamber of Industry and Commerce) training as a freight forwarder and logistics service provider, I gained intensive insight into all the operational and administrative areas at EgeTrans. Immediately after completing my training, I assumed responsibility for quality management."
"After my training as an optician, I wanted to develop in a different direction and am now being trained at EgeTrans as a freight forwarder and logistics service provider. I'm still fascinated by how deeply you can immerse yourself in the world of international logistics in the small town of Marbach."
"As head of the ET Academy, I am responsible for corporate learning at EgeTrans, where I benefit from my practical experience in the air freight department. I supervise our current trainees to lay the foundation for a successful career at EgeTrans."